Plants of Power: Native American Ceremony and the Use of Sacred Plants
by Alfred Savinelli
Plants of Power. This book is a guide to the sacred plants traditionally used by Native Americans and other indigenous people. It is an excellent tool for those seeking to connect more fully with the mysterious world of plants, animals, and Spirit.
For thousands of years Native cultures have used plants to heal physical and spiritual ailments. Highlighted here are 14 significant plants, with information on their properties, growing conditions, and medicinal applications, along with descriptions of Native American ceremonies and rituals in which these plants play a central role.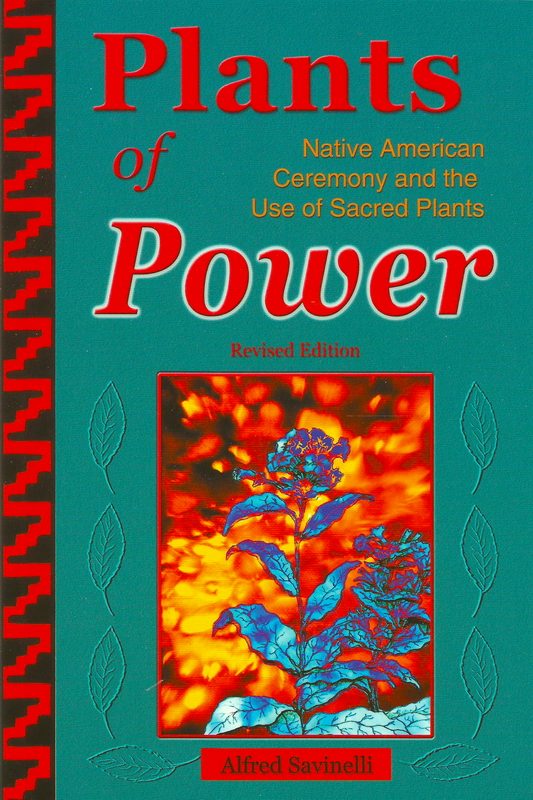 PLANTS OF POWER
About the Author
Alfred Savinelli has wildcrafted plants for the past twenty years in the Americas (North, South, and Central). He has primarily gathered plants for ceremonial and ritual use by Native People. His efforts have grown to include a network fo Native People who gather plants in a sacred and ecological manner. He is currently working with Native Scents, Inc., in Taos, New Mexico, which produces a wide range of aromatic herbal products and related items.
Reviews
"Hidden Gem for Curanderos and Shamans" by El Brujo on September 15, 2003
This is one of those small but great gems that is not getting the recognition it is suppose to. I first purchased the book in Spanish, and then got the English edition, and I have to say I found this book to be really informative and helpful. Learn the ceremonial usages of Copal, Sweet Grass, Ritual Tobacco, Osha Root, White Sage, Cedar, Mugwort and Lavender. Learn the historical and ritualistic usages for these plants as was used by the Wise Men and Woman of the various Indigenous tribes who used them, and passed on these wisdoms to the healers, spiritists, and witch doctors of modern time. Traditionally in my Spiritist back ground we offer tobacco to our Spirit Guides and Ancestors, the book offers traditional prayers that can be used or adjusted a bit to work for your spiritual purposes. I found the historical information very useful and informative. One of those books that does not get the recognition it deserves. It's Spanish edition has become quite the favorite to Curanderos, Brujos, and Santeros. I highly recommend this small little wonder, Useful information.
"A Find" by Reader on January 20, 2005
This book describes the sacred and healing uses of 14 herbs: incense cedar, red cedar, copal, juniper, lavender, mugwort, osha, pinion, white sage, desert sage, sweet grass, tobacco, red osier dogwood, and yerba santa according to Native Americans. It also includes traditional prayers and discusses ritual. The information is good and useful for healers and people who work with the spiritual powers of plants. A big step in the right direction.
"Dear Reader" by Silvia Rodriguez on February 22, 2014
Wow, I learned a lot from this book about the spiritual and earthly view of plants and their spirits from a Native American point of view. A very good book to have in your spiritual library.
"Great Read!" by David Pehle on February 16, 2014
Even though it isn't one of the biggest books it still packs a punch. It lays everything down on the table for you to consider and reflect upon. A big thanks 's to the author for such a good read.
"An Eloquent and Vivid Look at Native American Sacred Plants"  by R Tehan on December 4, 2013
Plants of Power is a short but wonderful monograph on the Native American uses of fourteen plants. It is full of detailed descriptions of tribal ceremonies and ceremonial uses of sacred plants as well as medicinal properties and sometimes surprising virtues of these plants. Also within, are interesting historical facts and mythology surrounding plants, excerpts from tribe leaders and healers, and Native American prayers. This book is a treasure to anyone with an interest in or curiosity about herbs, or Native American ceremonies.
"Intuitive Reading" by Shel on June 5, 2013
If you are intuitive and want to study nature's power of healing through plants and herbs…then this is a reading that is a must to have as a reference in your personal library.